THREAD ROLLING ATTACHMENTS FOR LATHES AND AUTOMATIC SCREW MACHINES
Thread rolling is an economical method of producing smooth precision threads at high production rates. Close tolerances are easier to maintain, threads are stronger, downtime for replacing tooling is minimized and the original accuracy of the setup is maintained on long runs.
The uniformity of rolled threads reduces inspection time to a minimum, resulting in considerable savings in those costs. Threads can be rolled close to the front and rear of shoulders, which many times will eliminate a secondary threading operation.
Reed-Rico Thread Rolling Attachments are designed to operate from the cross slides of automatic screw machines and lathes and consist of two units…a head and an adapter.
Six standard heads make possible the selection of an attachment that will provide the maximum thread rolling capacity within the tooling sectors of more than 100 sizes of single and multiple spindle screw machines.
Adapters are of solid or adjustable type and are designed for selected cross slide positions on the automatics. A large assortment of adapters is available for more than 500 applications.
The Senes B Attachment is a precision tool. It is rugged in construction, easy to adjust and set up. and is capable of rolling class 2A or 3A threads.
The following features, exclusive with Reed-Rico, account for superior roll performance, longer roll life, less machine downtime and better quality threads.
Advance and Alignment Compensators
Anti-Friction Bearings
 
Simple Precise Roll Matching
Dovetail Clamping Arrangement
 
Advance Compensator
Roll "wind-up" caused by one roll rotating counter to the direction of attachment advance as the rolls move into the work, is automatically compensated for, by an advance compensating device within the head without placing any undue strain on the gear train. The Advance Compensator insures perfect synchronization of the thread rolls during rolling operation.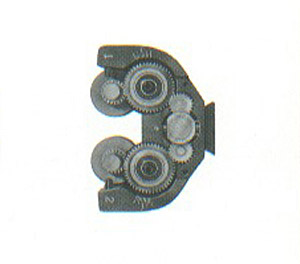 Alignment Compesator
Accurate positioning of the rolls in the head, accomplished by four independently adjustable arms, and a vertical floating arrangement in the adapter, provides automatic parallel alignment of the rolls with the center line of the work throughout the rolling cycle. The Alignment Compensator also assures smooth contacting and withdrawal of the rolls to and from the work.
Anti-friction Bearings
Anti-friction thrust bearings on both sides of the thread rolls minimizes unnecessary wear on the rolls from any side movement. Not only is this important when rolling straight threads, but it also accounts for exceptional performance when taper Pipe threading.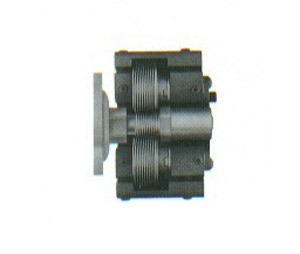 Simple Precision Matching
Precise matching of the rolls is important in the operation of a two-roll geared type thread rolling attachment. To obtain accurate threads, it is necessary that the rolls track property on the work blank. The simple micrometer adjusting device provides a positive means of positioning both rolls for proper tracking.
Dovetail Clamping Arrangement
The dovetail design of the connection between the head and the adapter makes it possible to easily remove the head from the machine for changing or adjusting rolls, or for convenience in making adjustments, without removing the adapter from the cross slide. This feature combined with an adjustable and positive locating stop, assures that the head will always be reassembled in the adapter in the same relative position to the work.
Model No. 
Maximum Thread Length
 Less approximately 3 pitches
Straight Threads' Standard Diameter Capacity Range
Pipe Threads Straight and Taper Standard Diameter Capacity Range
B5
B8
B10
B13
B18
B36
9/16"
9/16"
3/4"
1*
1-1/4"
1-1/4"
0 to 5/16*
0 to 1.2*
0 to 5/8*
1/8 to 13/16"
1/4" to 1-1/8"
3/8" to 2-1/4"
-
1/16" to 1/4*
1/16" to 3/8*
1/16" to 1/2*
1/8* to 3/4"
1/4* to 1-1/2"
*Change may be made from straight pipe to taper pipe threading by changing rolls only.
If your application does not fall within the standard diameter and thread length capacity consult the factory tor additional information.
How to Order
When ordering or requesting a quotation for a Reed Thread Rolling Attachment, please furnish the following information:
1. Machine
A. Make
B. Size
C. Model
D. Serial Number
E. Rolling position

2. Work Specification
F. Thread size
G. Thread length
H. Position of shoulder on work
I. Size of shoulder on work
J. Distance to first full thread
K. Material

3. Setup and Application Requirements
L. Stock size
M. Cut-off end of work
N. Width of cut-off tool
O. Position of threaded section in  relation to collet face
P. Spindle speed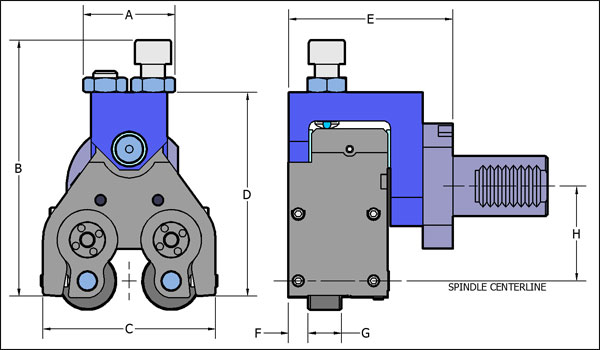 | | | | | | | | | |
| --- | --- | --- | --- | --- | --- | --- | --- | --- |
|   | A | B | C | D | E | F | G max | H max |
| B10-CNC | 2.400 | 6.060 | 3.630 | 4.580 | 3.790 | .380 | .750 | 2.470 |
| B13-CNC | 2.400 | 6.680 | 4.510 | 5.320 | 4.290 | .520 | 1.000 | 2.470 |
| B18-CNC | 2.400 | 8.060 | 6.130 | 6.870 | 4.790 | .630 | 1.250 | 2.730 |
Head Specs
 
B10-CNC
B13-CNC
B18-CNC
Straight
Threads
0 to 5/8"
1/8" to 13/16"
¼" to 1 1/8"
Pipe Threads
1/16" to 3/8"
1/16" to ½"
1/8" to ¾"
Max Roll
Width
¾"
1"
1 1/4"
Shank Sizes
 
B10-CNC
B13-CNC
B18-CNC
VDI
25 or 30 mm
30 or 40 mm
30, 40 or 50 mm
CAPTO
C3
C3 or C4
C3, C4 or C5
SQUARE
1"
1"
1"
BOLT ON
Specific to Machine Model
Features
Easy Set-Up
Compact Design
Proven Durability
Parts Interchange with Reed B-Series Heads